Lake Yellowstone Hotel and Cabins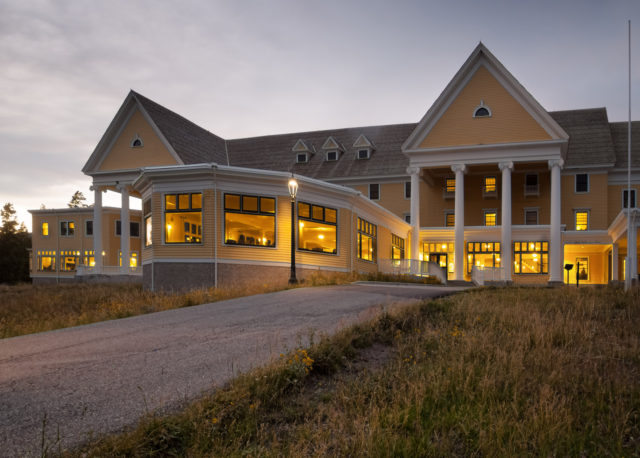 Built in 1891, the Lake Yellowstone Hotel, the oldest in Yellowstone National Park, is also the most elegant.
The grand yellow Colonial Revival building, a National Historic Landmark recently remodeled inside and out, stands on the northern shore of Yellowstone Lake, the largest alpine lake in North America. Large windows in the hotel's graceful lounge – the Sun Room — offer stunning views of the lake and a glimpse, across the vast body of water, of some of the most remote wilderness in the lower 48 states.
In this historical setting amid wilderness, visitors for over 125 years have enjoyed luxury in the form of an evening string quartet, fine wines and excellent food.
A full-service dining room adjacent to the lobby offers breakfast, lunch and dinner. Dinner reservations are recommended. The hotel also features a bar, deli, gift shop and comfortable public spaces.
The hotel features 296 rooms, plus an annex and cabins. Rooms come in many different configurations and are priced from about $250/night for a "standard" room to more than $700/night for the "presidential suite," where Calvin Coolidge once lodged.
Nearby cabins, also painted yellow, are about $170/night.
As in all park lodging, television, radio and air conditioning are not available. Lake Yellowstone Hotel, however, does offer internet service and a business center.
The hotel is open from mid-May to mid-October.